Our Services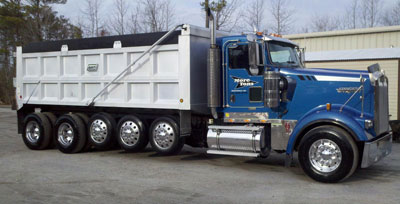 Our current fleet includes 11 trucks of the following sizes:
1 Tri-axle Truck - Capacity: approx 19.50 tons.
7 Quad-axle Trucks - Hauling Capacity:
approx. 20.50 to 22.00 tons.
3 Quint-axle Trucks - Hauling Capacity:
approx. 24 tons.
We also have another 15-20 subcontracted trucks in use daily. Our trucks are late model trucks and are well maintained. Our heavy duty dump trucks can provide hauling of dirt, rock, sand, gravel, and asphalt.
More Tons LLC is a DBE/WBE certified company with the state of NC and can help you meet your goals on state projects. We provide trucks for stock piling asphalt and concrete plants. We can provide enough trucks for multimillion cubic yard job or a single truck for a gravel driveway. No job is too big or too small.
For assistance with scheduling or pricing, please contact Jonathan at 910-389-9119.
We look forward to helping you.